More than 12,000 democrats descended upon Des Moines, Iowa on Saturday, September 21 for a chance to support their preferred 2020 candidate, or maybe learn a thing or two about 17 of them.
For Sophie and Eva, and approximately 1400 others, that candidate was Pete Buttigieg.
"My name is Sophie and I'm on Team Pete because faith is really important to me, and the way Pete talks about faith is how I think it should be talked about."
"My name is Eva and I'm on Team Pete because he's gonna win the era for my generation."
---
---
Des Moines Register – Brianne Pfannenstiel
Buttigieg's rally began in the early morning with a performance by Relaxed Fit, a jazz band from Cedar Rapids. And the campaign bused in the Clay High School Marching Band from South Bend to hype the crowd. Later, in a mass of golden T-shirts and signs, Buttigieg and his supporters marched toward the Steak Fry, chanting "I-O-W-A, Mayor Pete all the way!" as the crowd crawled down the narrow street.
Leading the crowd was Sam Ingersoll, a 47-year-old supporter from Iowa City, clad in an inflatable dinosaur costume. "My daughter says I'm 'extra,'" Ingersoll said, his voice emanating from deep within the dinosaur's neck.
Buttigieg seemed to generate the most raw enthusiasm from the crowd — much like he did at the Democratic Wing Ding event in Clear Lake last month.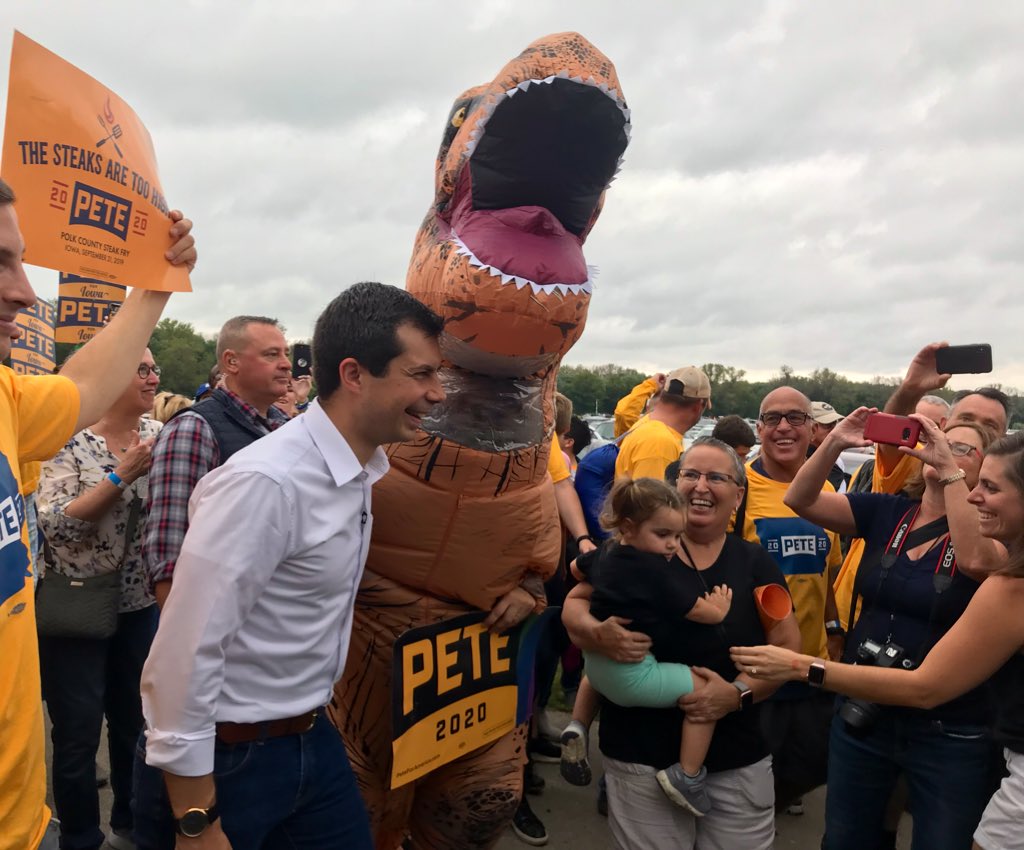 ---
Iowa Starting Line – Isabella Murray
"I think [Buttigieg] has the best ground-game in Iowa," said Susan Matos, who works in healthcare, from Bettendorf, Iowa. "I notice his supporters more than anyone else. I think his supporters have gone a bit unnoticed but I think the Steak Fry is going to put him on a platform. I was blown away at how many of his supporters were here."
Supporters of Buttigieg said they endorse the candidate because of this more moderate positions, electability and his character.
"[Pete] couldn't lie if he tried," said Emilyn Crabbe, 20… "The first thing I noticed was his honesty. What I want America to be — I see in him."
When it came time for Buttigieg to take the stage at the Steak Fry, the crowd swelled with an audience in 'Pete 2020' shirts. The rest of the crowd gave the candidate a standing ovation.